Akinsola Akinyemi, Ph.D.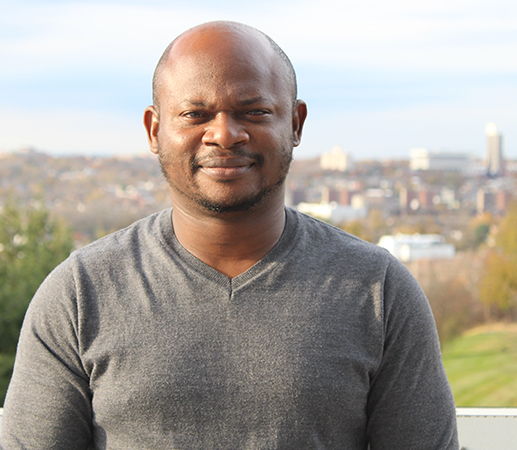 Dr. Akinyemi obtained his Bachelor of Science and Master of Science Degrees in Anatomy from Olabisi Onabanjo University and the University of Ibadan, respectively. Following his outstanding academic records at both undergraduate and master levels, he was employed as a Faculty member at the University of Medical Sciences, Ondo. He taught medical students in neuroanatomy/neurophysiology, developmental anatomy, and gross anatomy. Subsequently, he successfully competed for the Chinese Academy of Sciences and The World's Academy of Sciences President's Fellowship (CASTWAS) Scholarship to pursue his Doctorate at the University of Science and Technology of China, (USTC) Hefei, China, and obtained his Doctor of Natural Science in Biology, (Ph.D. Neurobiology). While in the School of Life Sciences and Medicine at USTC, Dr. Akinyemi studied in the CAS Key Laboratory of Brain Function and Disease, where he explored the roles of the RNA-binding proteins, hnRNPM and hnRNPR in cognition, synaptic plasticity, and lipid metabolism. RNA-binding proteins regulate RNA metabolism, a process with significant implications for the etiology and pathophysiology of many brain diseases, including neurodegenerative diseases such as Alzheimer's disease. At NSCI, Dr. Akinyemi focuses on dissecting the roles of RNA-binding proteins in Alzheimer's disease and related dementias, applying cutting-edge human stem cell techniques in combination with his skills in molecular and cellular neuroscience.
Akinyemi AR, Li D, Zhang J, and Liu Q. (2021). hnRNPM deficiency leads to cognitive deficits via disrupting synaptic plasticity. Neuroscience Letters, Apr 23; 751: 135824, doi: 10.1016/j.neulet.2021.135824. Epub 2021 Mar 13.
Agbo J, Akinyemi AR, Li D, Zhang Q, Li X, Li W, Zhang J, Liu Q. (2021). RNA-binding protein hnRNPR reduces cholesterol levels by binding to and suppressing HMGCR. Journal of Integrative Neuroscience, 2021, 20(2): 265-276, doi: 10.31083/j.jin2002026.
Ajani RS and Akinyemi AR (2016). Telfairia occidentalis leaf and seed extracts as possible preventive and therapeutic agents for induced benign prostatic hyperplasia. European Journal of Medicinal Plants; vol.12.1: 1-11
Akinyemi AR and Adesanya OA. (2016). Effect of methanolic extract of Trichosanthes cucumerina Linn. seed on sperm count of adult wistar rats. Journal of International Research in Medical and Pharmaceutical Sciences; vol. 7.3: 133-136.
Oguntoye SG, Adefule AK, Popoola OB, Akinyemi AR, Huthman IO. (2014). Effects of micheland anti-diabetic herb on the kidney of streptozotocin-induced diabetic adult wistar rats. International Journal of Pharmaceutical and Drug Analysis; vol. 2.2. 138-146.
Huthman IO, Ghandi AR, Nagwari U, Akinyemi AR, Adenowo TK, Huthman AS. (2014). Sunlight: A Substitute to Hydrogen Peroxide and Monosodium Glutamate as a Bleaching Agent in Bone Bleaching. Open Journal of Biomedical Materials Research; vol. 1.2:15-20
Odumosu, FM, Akinyemi AR, Huthman, IO, Olokodana, O, Adesanya, OA, Adefule, AK. (2013). Effect of Onion, Garlic and Aridan Aqueous Extract on Sperm Count and Body Weight of Adult Wistar Rats after Inducing with Testostarone and Estradiol. International Journal of Chemical and Pharmaceutical Research; vol. 2.9: 242-250.
Popoola BO, Adefule AK, Ajayi TR, Akinyemi AR, Otulana OJ, Akpan HB. (2013). Effects of tetracycline on testis and testosterone level in adult male wistar rats. International Journal of Chemical and Pharmaceutical Research; vol. 2.11: 392-403.
Akinyemi AR, Huthman IO, Adesanya OA, Akpan HB, Adefule AK. (2012). Effect of the methanolic extract of Trichosanthes cucumerina seed (Snake Gourd/ Tomatoe) on Experimentally Enlarged Prostate Gland of Adult Male Wistar Rats. Research and Reviews: Journal of Medical and Health Sciences; vol. 1.1: 10-17.