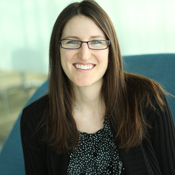 NSCI's research scientist, Dr. Kristen Zuloaga has been awarded a four year grant from the American Heart Association for her study of the relationship between pre-diabetes and vascular cognitive impairment, which is the second most common cause of dementia. Dr. Zuloaga is also analyzing the potential results for each sex. She is looking at aromatase expression and how this affects cognition in male vs. female. Aromatase inhibitors are often used for treating breast cancer. Understanding this relationship could have important clinical implications. See full project summary below:
Vascular cognitive impairment (VCI) is the second most common cause of dementia. Diabetes increases VCI risk,an effect that has largely been attributed to vascular dysfunction caused by diabetes. Prediabetes, impaired glucose tolerance in the absence of hyperglycemia, is increasingly recognized as its own disease state and is also associated with endothelial dysfunction. Our preliminary data show that prediabetes, modeled by high fat (HF) diet in mice, causes cerebral hypoperfusion and cognitive deficits, suggesting that prediabetes may also increase risk of VCI. There is a sex difference in cardiovascular disease risk, as pre-menopausal women are normally at decreased risk compared to age-matched men. However, this sex differences is reversed in diabetes, suggesting that endogenous sex steroid pathways may be altered in these women. In both sexes, a major source of estrogen is local synthesis of estradiol by the enzyme aromatase in a variety of cells, including endothelial cells. We have shown that inhibition of aromatase drastically impairs endothelial function in female mice, but not male mice. Aromatase inhibition also impairs learning and memory, with effects being more pronounced in females. In addition, brain aromatase levels have been shown to be drastically decreased in women with Alzheimers disease. However, the role of aromatase in VCI and the mechanism by which prediabetes can alter its expression has yet to be explored. We will test the hypothesis that in a mouse model of VCI, HFD/prediabetes will cause increased cerebral hypoperfusion and cognitive deficits in females compared to males due to decreased endothelial aromatase expression. We will utilize unilateral common carotid artery occlusion (UCCAO) to model VCI. In aim 1, we will determine there are sex differences in the effects of HF diet on cerebral perfusion and cognitive deficits following UCCAO. In aim 2, we will determine if HF diet-induced alterations in cerebrovascular vasodilator production are due to decreases in endothelial aromatase. Finally, in aim 3, we will determine if endothelial aromatase deficiency causes cerebral hypoperfusion and increase cognitive deficits following UCCAO in a sex-specific manner and if aromatase overexpression can rescue endothelial vasodilator production in HF diet mice. This project has important clinical implications since aromatase inhibitors, which are a common therapeutic for breast cancer, have been linked to impaired cognition in women.
Kristen obtained her PhD in biomedical sciences in 2011.  Her graduate work focused on the effects of sex hormones on cerebrovascular inflammation. Next, as a postdoc at Oregon Health and Science University under the mentorship of Dr. Nabil Alkayed, she examined how sex differences in cerebrovascular function influence stroke outcome and contribute to vascular dementia.