RENSSELAER N.Y., January 26, 2017 – Age-related macular degeneration (AMD), a progressive degenerative disease of the retina, is the leading cause of blindness in the elderly. Patients with AMD gradually lose central vision, severely compromising the ability of a person to perform everyday tasks, including reading. AMD affects more than 10 million people in the US and is projected to increase to 196 million in 2020 worldwide. Researchers at the Neural Stem Cell Institute, including the University at Albany graduate student Janmeet Saini, have now published a breakthrough finding about AMD in the high impact journal Cell Stem Cell.
In AMD, the retinal pigment epithelium (RPE), a pigmented layer of cells lying beneath and supporting the retina, degenerates. AMD occurs in two forms, dry and wet. While there are therapies for the wet form of AMD, there are no approved therapies for the dry form of AMD. The advent of induced pluripotent stem cell (iPSCs), and their ability to generate any cell type in the body, has enabled the creation of cell culture models of disease that enable rapid drug screening for potential therapeutic agents.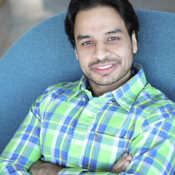 Saini and investigators at the NSCI derived iPSCs from AMD and normal individuals, and used these to create pure populations of RPE cells. The iPSC derived RPE from AMD patients exhibited higher expression of complement and inflammatory factors than those from healthy people. Complement is a vital system of immune surveillance in humans that protects our cells from foreign pathogens. However, with aging and in several disorders including Alzheimer's disease and AMD, the complement system can become deregulated resulting in tissue damage. Researchers at NSCI showed that RPE treated with Nicotinamide, a vitamin B3 derivative, showed reduced signs of abnormal AMD proteins in the cultured RPE cells, and significant suppression of complement and inflammatory pathways, as well as improved RPE cell survival. Nicotinamide treatment also inhibited production of factors such as VEGF-A, which may also help slow the progression to wet AMD. Further studies of the way Nicotinamide protects RPE cells should aid the development of novel AMD therapies, with the goal of preserving vision in the elderly.
About NSCI: NSCI, the first independent, non-profit stem cell research institute in the United States, is a unique research organization that produces leading stem cell science with the goal of developing novel therapies for diseases of the retina, brain and spinal cord. NSCI has a team of over 30 researchers focused on bringing impactful therapies to patients.
MEDIA CONTACT: (518) 694-8188